On 8 December 2019, Tripsona successfully held the outing event of PT Amalan International Indonesia in Yogyakarta. Approximately 25 employees of Amalan attended this one-day event.
Overview of PT Amalan International Indonesia
Amalan is a multinational financial services company that operates in Indonesia, Malaysia, and Singapore. In July 2019, PT Amalan International Indonesia was listed on the OJK as the only fintech company specializing in easing borrower's debt burden (or refinancing). As a newly established fintech startup, of course, a program to promote brotherhood and togetherness is needed to strengthen their teamwork.
It is a pleasure for Tripsona to held this company outing event. The following are the main attractions that we had organized to refresh the body and soul of Amalan employees:
Trekking at Nglanggeran
Tripsona that was born in December 2017, understands quite well how a startup struggles to establish itself from scratch. It can be conceived as climbing the mountain from the very bottom to the summit. Therefore, we chose Nglanggeran as one of the activities for the Amalan group. Trekking Nglanggeran is quite easy and only takes a short time. This activity is perfect for those of you who rarely move outdoors, to restore your mental and physical health.
The group arrived early to see the sunrise at the top of Ancient Volcano Nglanggeran. After reaching the top, all the works were paid off. The group could saw the beautiful scenery despite cloudy weather since it was in the rainy season.
Barbecue at Mbuluk Beach
A modest party on the beach accompanied by a barbecue can only be found in Tripsona. Mbuluk Beach that is famous for creating peace of mind is suitable for the private gathering because it is not too crowded with visitors. In this event, the Amalan group was free to play, relax, take photos, selfies, eat, and drink as much as they could.
After enjoying the seafood barbeque prepared by Tripsona's crew, and after satisfied by relaxing and taking pictures at the beach, the group then returned to the hotel in Yogyakarta.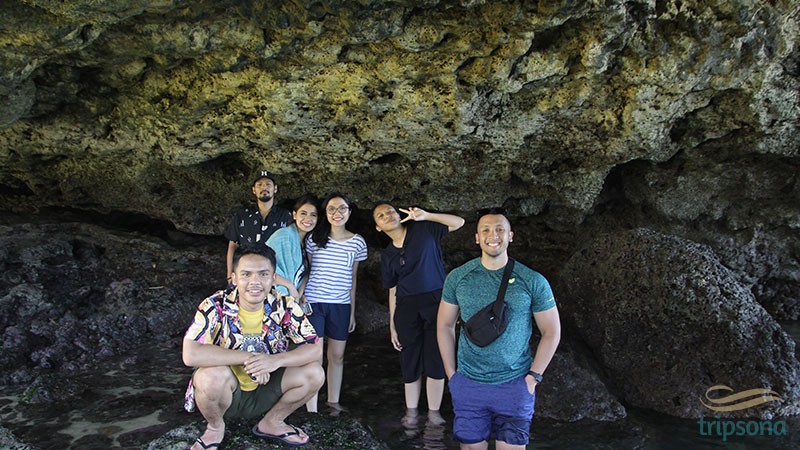 Thank you to PT Amalan International Indonesia for entrusting the company's outing event to Tripsona. We truly hope that Amalan can become a prominent and successful company in the future. Continue to fight for your future, just like how we climb Nglanggeran together to reach the summit! Thank you to Mr. Arne, Mr. Yodhi, Ms. Erma, Mr. Agam, Ms. Nadia, and other parties who have played a role in this event whose names cannot be mentioned one by one.